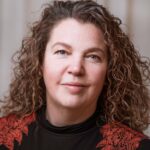 Marion Latour
Is working at the Bert Hellinger Institute as a trainer and coach.
Profile
---
The movement has already started
It was like that for me too, when I started out in systemic work. In 2013, I stumbled upon Ruud Knaapen's training in systemic coaching with horses by chance. 
Something with horses seemed interesting and attractive, and I signed up for it within 2 minutes. To be honest, I had no idea what systemic coaching was… 
From day 1 of the training, I was captivated by systemic work and many systemic trainings followed. In October 2016, at the end of "The Seed and the Fruit," a Train the Trainer program for organizational constellations, I said to Jan Jacob: "I kill you as my master and I welcome you as my colleague." I was shocked by my own words; but they came out of my mouth before the words could reach my brain. The movement and the words preceded me.
A month later, I got a phone call from Barbara, asking if I wanted to become an affiliate trainer at the Bert Hellinger Institute: I immediately said "Yes" – again, without thinking…
Not long after that, I quit my full-time job at the fire department and surrendered myself completely to systemic work and the movement that comes with it.
At the end of the summer of 2021, Barbara and I were walking on the beach of Texel, talking about the future and the Bert Hellinger Institute. I was thinking about what I wanted to say and my answers, and hesitated. 
Suddenly Barbara looked at me: "I just want you to express your feelings…" This sparked a movement and then the words came out: "I want to do more, contribute more to the Bert Hellinger Institute, and to systemic work…"
This forward movement, often even before it can be precisely expressed in words, invites me time and again, now also as co-owner, to contribute to systemic work and the natural movement of life. 
Grateful for what was, proud of what is, and curious about what is to come, I surrender myself to the invitations and movements as co-owner of the Bert Hellinger Institute. 
Subscribe to our newsletter
We send the latest blogs, vlogs and our course offerings monthly through our newsletter. Stay informed and subscribe.
Subscribe
About the Bert Hellinger Institute
People are constantly evolving. With each other, without each other. In families, in teams, in organizations. Systemic thinking makes us aware of the "why" of our being and doing. Organizational and family constellations create room for movement. The BHI provides courses, workshops and training programs in the field of systemic work, constellations, leadership and coaching. This is how we contribute to the development of people, organizations and society.
EVENT
For up-and-coming and established leaders. An initiative of the Bert Hellinger Institute.