TIMELESS IN THE WE
Systemic facilitation in a rapidly changing world
Our current world is demanding a lot from people and organizations
We all are human beings with our own patterns and we can sometimes feel shaky in these times. However, as systemic facilitators, we need to be solid and grounded in our systemic facilitatorship – now more than ever. And what more is asked of our skills?
How can we, as systemic facilitators, contribute to the individual, organizational and societal transformations that are taking place right in front of us?

How we can be both part of the transformation ánd be available as a facilitator?

What new shapes, experiences and skills want to emerge?

Can we allow the next upgrade of ourselves and our systemic facilitation skills?
MAY 12 & 13, 2023
We are more than delighted to invite you to our international systemic congress on May 12th and 13th 2023 in the Netherlands.
DOWNLOAD FLYER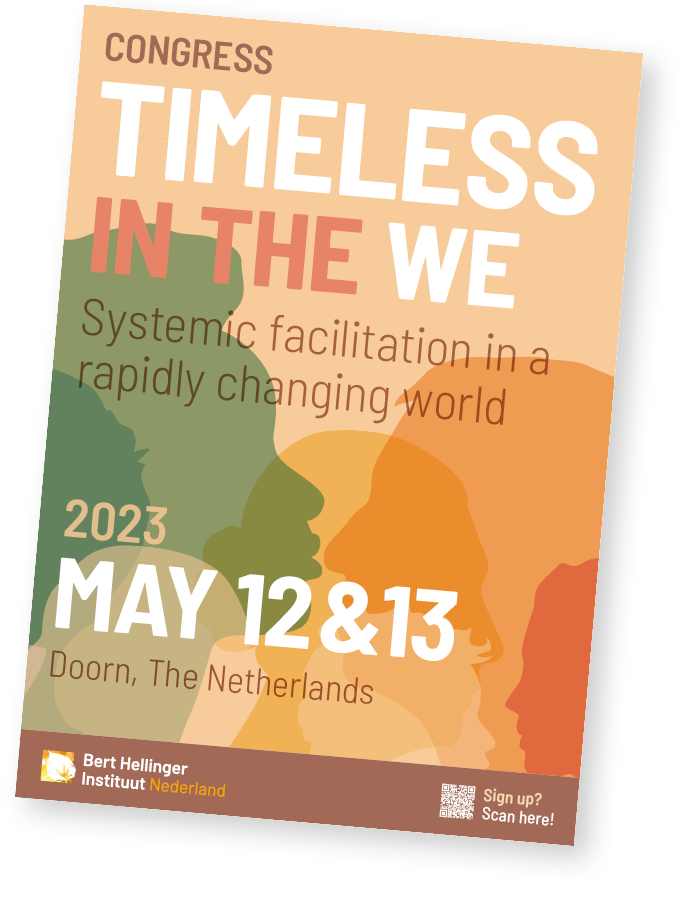 The congress Timeless in the We is an opportunity to (re)connect, resource, inspire and be nourished. International and personal. In organizations and society. In families and in ourselves.
In all the movements, transformations and complexity we feel the longing for timelessness. This congress will make the container for that. For you. For us. For we.
What you will participate in:
… a timeless environment where we can breathe and re-source
… an exchange of inspiration for ourselves and our systemic craftmanship with new experiences, skills and shapes
… a place to reconnect to ourselves, to each other and to the greater systems we belong to
… a festival of nourishment!
What to expect:
… you can choose from more than 20 workshops and join 5 workshops from the personal, organizational or societal field. Facilitators that are already confirmed are: Stephan Hausner, Bibi Schreuder, Ria Verlinden & Mosiwa Malula
… you can enjoy a beautiful location and wonderful food,  find rhythm in music and in a great party on Friday night, and be amazed with the wonderful art of Nynke Laverman
Extra booking
Interesting and inspiring 1-day masterclasses with Jan Jacob Stam and Marion Latour in the 2 days prior to the congress. More information you can find below.
For whom?



For everyone who is trained in systemic work, no matter where, how and how often you apply it. The plenary sessions and workshops will include many interesting options for family constellators, organizational constellators, systemic facilitators, leaders, trainers and coaches.
Practical information
The congress will be held at
Hotel & Conferentiecentrum Landgoed Zonheuvel, Amersfoortseweg 98, 3941 EP Doorn.
The location is 50 minutes by car from Schiphol Airport. The location is also easy accessible by train.  If you need help with transport from Schiphol to Zonheuvel in Doorn, please let us know, we are happy to help. If you need transportation from your accomodation to Zonheuvel, we can arrange shuttle buses that drive from central points in the area to Zonheuvel.
For available hotel rooms in the vicinity of the convention center, it is best to search on Booking.com or AirBnB. If you need help finding accommodation, please let us know,  we can provide a list of hotel rooms.
The price for the congress is €495,-. The price includes all workhops, food, music, art and a party & dinner on Fridaynight.
The spoken language during this congress will be English.
So join us!
So sign up now!
We look forward to meet you in the state of being that you are. We meet each other in the vulnerable, confident, doubtful, joyful, present, happy, heavy, light – and all other states we find ourselves in. 
SIGN UP
Pre-workshops
Timeless in the We
Join us at our interesting and inspiring 1-day masterclasses with Jan Jacob Stam, Marion Latour & Jochen Beyer!
Workshops
Timeless in the We
Read all about the workshops here!
Subscribe to our newsletter
We send the latest blogs, vlogs and our course offerings monthly through our newsletter. Stay informed and subscribe.
Subscribe
About the Bert Hellinger Institute
People are constantly evolving. With each other, without each other. In families, in teams, in organizations. Systemic thinking makes us aware of the "why" of our being and doing. Organizational and family constellations create room for movement. The BHI provides courses, workshops and training programs in the field of systemic work, constellations, leadership and coaching. This is how we contribute to the development of people, organizations and society.
EVENT